Meet Moonies on their quest to reclaim their place in the universe as they clash with evil Baron Bearon.
The Moonievers space is a very old place, full of intelligent life forms, wonders, and treasures...
There are chases, epic battles, treacherous villains, interplanetary espionage, new technologies, and exploration of mysterious temples and alien races, with the shadow of ancient civilizations and their forgotten knowledge looming in the background.
Meet the Moonies
The main characters of this epic space adventure are the Moonies - personalizations of cryptocurrencies. They are miners Normies that came to be by being in prolonged contact with proper coins, inheriting their names.
February 2022
Collection 2
Browse on Opensea
Cardie
Solie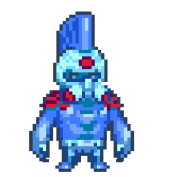 Dottie
Space Missions available, Price race available - see on Moonieverse portal
See collection
September 2022
Collection 3
Coming soon
Arcade Games
Use your Moonie to play-to-earn in our unique Moonieverse arcade games and compete on weekly leaderboards to win big prizes! Busy schedule? No worries! Participate in our passive gameplay space missions to earn without taking up your precious time, just set and forget!
Moonieverse Race
Test your skills in this fast paced competitive play-to-earn arcade game! Blast off in a rocket and land on the Moon! Be quick, your reaction speed will determine your score! The top players will earn BIG prizes!
Read more
Space Missions
With Space Missions (Passive Gameplay) you can stake your Moonie NFT and earn passively! Send your Moonie on heroic missions into space exploring vast landscapes and hunting valuable treasure! Adventure into the most dangerous and remote locations of the Moonieverse!
Read more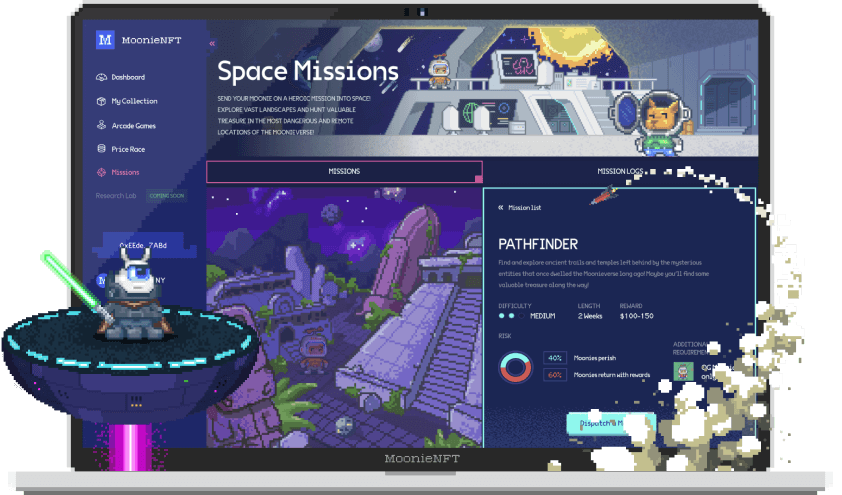 Upcoming 3D Price Race
Race against other Moonies in this multiplayer action packed 3D competitive play-to-earn arcade game! The fastest racers will earn the biggest rewards! With our smart opponent pairing system you'll spend less time waiting in queues and more time playing!
Read more
Price Race
Board a rocket that matches your OG Moonie and earn prizes along the way, our $100000 Grand Prize winners are selected amongst participants of the winning rocket. The first cryptocurrency to hit their price target wins!
Read More
MoonieNFT introduces the Moonieverse platform, a new and revolutionized NFT play-to-earn platform that enhances your Decentralized Finance (DeFi) experience by offering multiple ways to earn with your NFTs.
And that's not all; the Moonieverse will also allow you to earn more while farming at the same time. Finally, users can utilize their Moonie NFTs to participate in gamified yield farming. Meaning, every NFT in the Moonieverse is usable.
0
Players
$0
Earnings
0
Moonchest sold
0
Missions completed
0
Players
$0
Earnings
0
Moonchest sold
0
Missions completed
Frequently Asked Questions